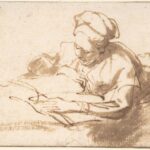 This is the last of three blogs on reading.
Does where you read a book affect your understanding of it?
I ask because of a conversation I had with a friend. We were discussing books, and I said I was reading Olive Kitteridge. She said she'd read it but hadn't enjoyed it. She'd been in Bali at the time, she added, and perhaps that had affected her evaluation.
So I started to think about what reading in a specific place brings to the experience.
I know that context – place, time, state of mind – is part of the reading experience, and that it's forever entwined with what you've read. For example, years ago I lived in Paris, in a studio in the (pre-trendy) Marais. The heating was non-existent so in winter I often tucked myself up in bed, which to save space was on a mezzanine-type shelf reachable via stepladder. There I read Madame Bovary, and even the mention of that novel evokes my little bohemian nook and the grey streets outside. On the other hand, Margaret Attwood's Alias Grace, read on the Barrier Reef, brings to mind sunhats and sand and the smell of suntan oil.
But did those places influence how much I liked those books, or how I read them? Madame Bovary (a masterpiece) was perfectly suited to its location, whereas Alias Grace certainly wasn't. Nineteenth-century Ontario is light years away from the modern-day Whitsundays, and Alias Grace is one of my favourite books in the world.
I've tried hard to recall a book which I have valued more, or less, because of where I read it, and I can't. Nor can I think of a place which has influenced my understanding of something I've read. My friend takes the opposite line. She says places affect your state of mind, which in turn affects your reading experience.
We've agreed to disagree. What's your view?